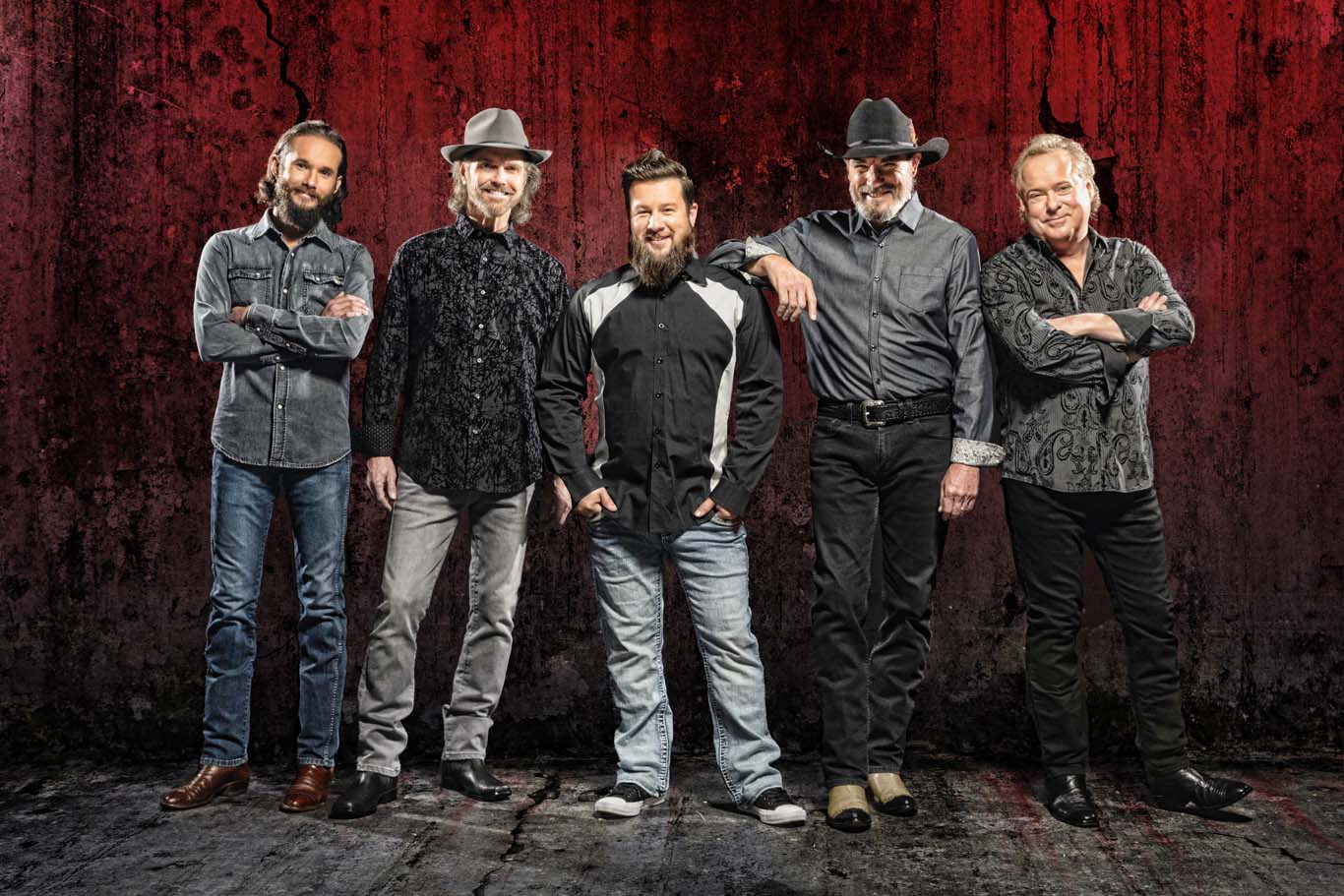 Country Music with a Jesus Kick
Since 2011
... Travelling Coast to Coast
The multi-award winning group MARK209 has been singing for audiences across the United States since 2011, with appearances ranging from presidential and television to opry and church platforms. Together, the approachable group of Christian country vocalists draw from their unique blend of voices to create a harmony which leaves an indelible mark of musical excellence on listeners, whether newcomer or longtime fan.
MARK209 — Nathaniel Justice, Jym Howe, Josh Pope, Roger Golden, and Joe Lee Armstrong— carries the honor of Christian Country Group of the Year for four years as well as the Fan Favorite Group of the Year. They regularly have songs on the national charts including their number one on the Christian Country Music chart with the song "My Kinda People." MARK209's dynamic brand of Christian and Country music has become a hallmark and distinction for the group, endearing them to thousands of fans across the nation through personal appearances, radio interviews, and television appearances. The group's name, MARK209, comes from mile marker 209 on I-40 in Tennessee, the crossroad for the Country Music Hall of Fame, the Ryman Auditorium, Music Row and much more. It's the heart of Nashville and where all roads lead to home base for this versatile group. With the goal of reaching hearts through music, MARK209 continues to entertain all ages, paving a legacy with proven staying power.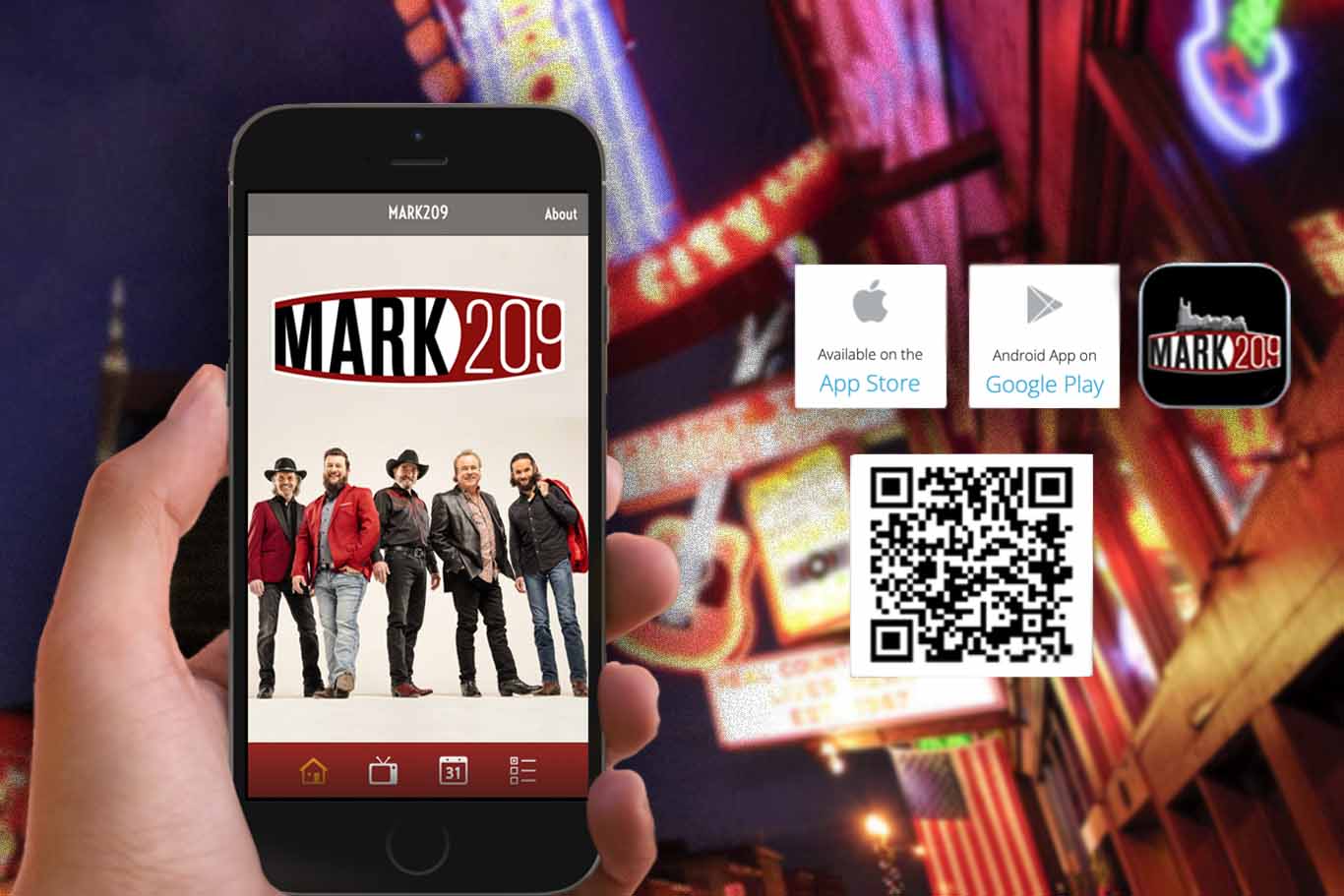 MARK209 in the palm of your hand
With everything from pictures, tour dates, and messaging MARK209 has created a fully immersive app. In this day and age you never know what post you will see or even get on your social media news feeds. So why not just go Directly to the source? The Official MARK209 App is just that, a direct connection to the guys. Also included is the new "Channel209" video subscription service. Where one of kinda shows and video content are available for subscribers!
Accomplishments
Group of the Year "Fan Favorite Group 2015" (CVM), Voted "Favorite Quartet" (GME) 2014, Single of the year "It Takes Faith" (GME) 2013, Voted "Favorite Quartet" (GME) 2013, #1 Song, 4 Consecutive Months (Southern Gospel Today) 2012, Top Five New Releases in the Nation (Singing News) 2012, Named "Ones to Watch" (AGM) 2012, Nominated "Entertainer of the Year" (USAGEM), Nominated "Fan Favorite Artist" (AGM), Nominated "New Excelling Artist" (SGM Fan Awards), CD "Grassroots" Listed in Top Picks of 2011 (AGM) Radio release on the Singing News Top 80 Chart for 10 months.
Venues
Crystal Palace [Bakersfield, CA] Rabobank Theater [Bakersfield, CA] Monmount College [Monmouth, IL] Elvis' Graceland [Memphis, TN] Bush Compound (Walker's Point) [Kennebunkport, ME] Seashell Oceanfront Pavilion [Hampton Beach, NH] CAL EXPO (Fish Family Fest) [Sacramento, CA] Wheeling Jamboree [Wheeling, WV] North Carolina Apple Festival Main Stage [Hendersonville, NC] Manatee Convention Center [Palmetto, FL] Arlington Music Hall [Arlington, TX] Bakersfield College [Bakersfield, CA] Dollywood Theme Park [Pigeon Forge, TN] Owasso Performing Arts Center [Owasso, OK] Smoky Mountain Convention Center [Pigeon Forge, TN] LifeLight Music Festival [Bethany, MO] Country Tonite Theatre [Pigeon Forge, TN] Green Center for the Performing Arts [Green Castle, IN] Center For Rural Development [Somerset, KY] Benton Event Center [Benton, AR] Trinity Music City [Nashville, TN]
Television Appearances
Gospel Music Showcase [Daystar Television], TBN's Praise The Lord (with Jason Crabb) [Nashville, TN] The Good Life [Orlando, FL] Atlanta Live [Atlanta, GA] Inspirational Country Music Awards [Nashville, TN] Nite Line (WGGS-TV16) [Greenville, SC] Gospel Music Today [Tulsa, OK] Diamond Awards [Pigeon Forge, TN] "Christmas from the Heart of Nashville" [syndicated]