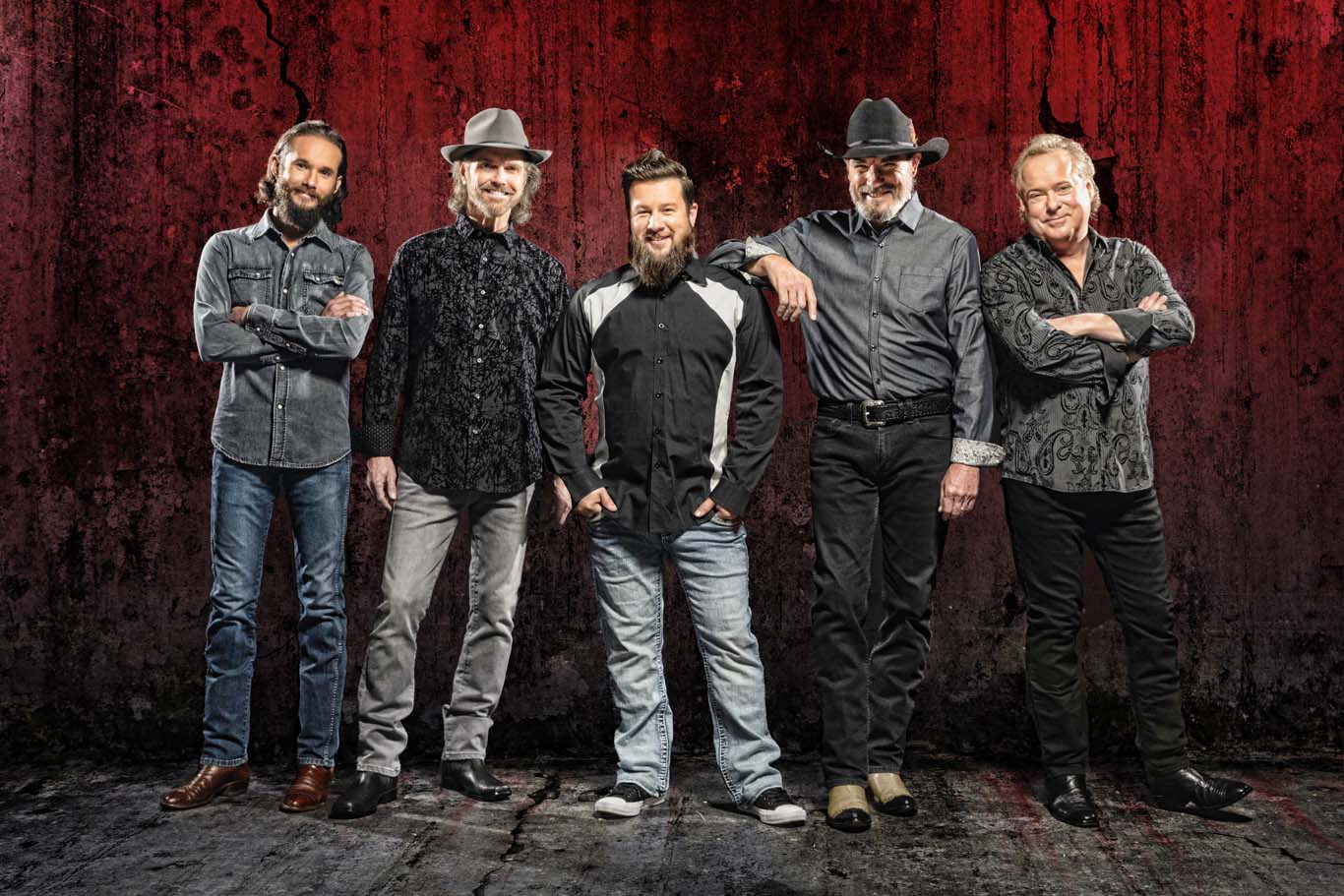 Country Music with a Jesus Kick
Since 2011
... Travelling Coast to Coast
In the past few years, MARK209, the Nashville-based band has established an impressive faithful fan base from coast to coast. Audiences respond to the four-part harmony associated with Gospel music, yet MARK209's sound has a strong country influence. Fans relate to their message which reflects the life that many live leading to an understandable communication between audience and singers. Perhaps MARK209's casual appearance, friendly rapport with fans and wide-range of Christian country songs have earned them followers from four generations: a four-year-old sings the lyrics with them; a teenager creates fashions using the MARK209 logo; young parents eager to introduce their children to Christian music and the older folks who find themselves responding like "groupies" as they did in their teen years.
Traveling in their signature "Yellow Bus", MARK209 has performed from The Crystal Palace in Bakersfield, CA across the country to Kennebunkport, ME where they sang for the Bush family at Walker's Point three times prior to the passing of President George HW and Barbara Bush. Stops between have included the Main Stage at Graceland in Memphis, TN, Harmony at the Gulf in AL, the Main Stage at the NC Apple Festival, the Owasso Gospel Opry in OK, the Arlington Music Hall in TX, the Wheeling Jamboree in WV, and Dollywood in TN. When not touring, the band makes television appearances and gives radio interviews and have produced several music videos. MARK209's "Christmas from the Heart of Nashville" concert plays to sold-out venues throughout the country. Recognition from their loyal fans has recently come in the form of two Diamond Awards for the Christian Country Group of the Year and The Christian Music Fan Award for Favorite Group, as well as a Number 1 song on the Christian Country Music Chart.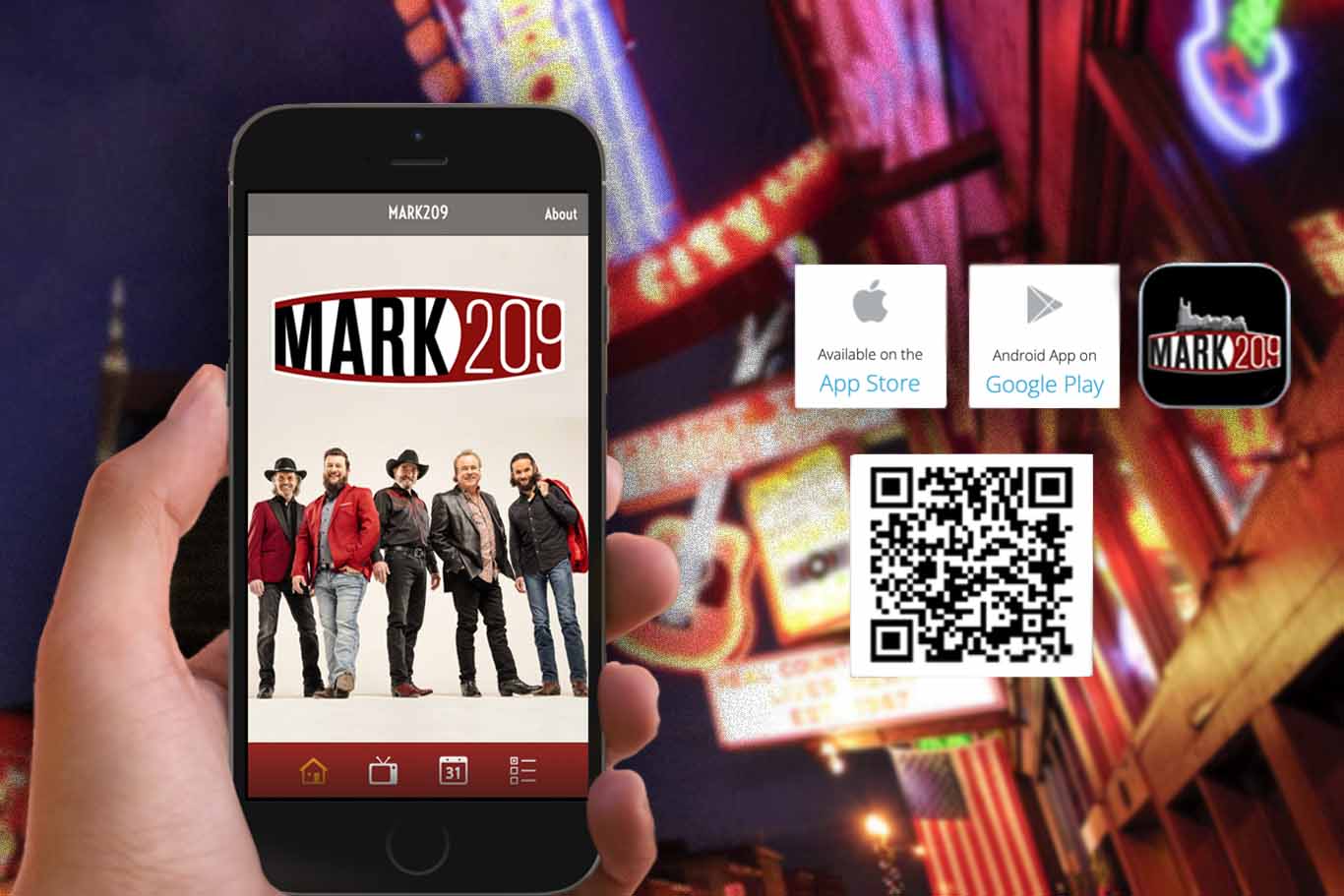 MARK209 in the palm of your hand
With everything from pictures, tour dates, and messaging MARK209 has created a fully immersive app. In this day and age you never know what post you will see or even get on your social media news feeds. So why not just go Directly to the source? The Official MARK209 App is just that, a direct connection to the guys. Also included is the new "Channel209" video subscription service. Where one of kinda shows and video content are available for subscribers!
Accomplishments
Group of the Year "Fan Favorite Group 2015" (CVM), Voted "Favorite Quartet" (GME) 2014, Single of the year "It Takes Faith" (GME) 2013, Voted "Favorite Quartet" (GME) 2013, #1 Song, 4 Consecutive Months (Southern Gospel Today) 2012, Top Five New Releases in the Nation (Singing News) 2012, Named "Ones to Watch" (AGM) 2012, Nominated "Entertainer of the Year" (USAGEM), Nominated "Fan Favorite Artist" (AGM), Nominated "New Excelling Artist" (SGM Fan Awards), CD "Grassroots" Listed in Top Picks of 2011 (AGM) Radio release on the Singing News Top 80 Chart for 10 months.
Venues
Crystal Palace [Bakersfield, CA] Rabobank Theater [Bakersfield, CA] Monmount College [Monmouth, IL] Elvis' Graceland [Memphis, TN] Bush Compound (Walker's Point) [Kennebunkport, ME] Seashell Oceanfront Pavilion [Hampton Beach, NH] CAL EXPO (Fish Family Fest) [Sacramento, CA] Wheeling Jamboree [Wheeling, WV] North Carolina Apple Festival Main Stage [Hendersonville, NC] Manatee Convention Center [Palmetto, FL] Arlington Music Hall [Arlington, TX] Bakersfield College [Bakersfield, CA] Dollywood Theme Park [Pigeon Forge, TN] Owasso Performing Arts Center [Owasso, OK] Smoky Mountain Convention Center [Pigeon Forge, TN] LifeLight Music Festival [Bethany, MO] Country Tonite Theatre [Pigeon Forge, TN] Green Center for the Performing Arts [Green Castle, IN] Center For Rural Development [Somerset, KY] Benton Event Center [Benton, AR] Trinity Music City [Nashville, TN]
Television Appearances
Gospel Music Showcase [Daystar Television], TBN's Praise The Lord (with Jason Crabb) [Nashville, TN] The Good Life [Orlando, FL] Atlanta Live [Atlanta, GA] Inspirational Country Music Awards [Nashville, TN] Nite Line (WGGS-TV16) [Greenville, SC] Gospel Music Today [Tulsa, OK] Diamond Awards [Pigeon Forge, TN] "Christmas from the Heart of Nashville" [syndicated]